Upon our return to Quito from Papallacta, there was some business in order. Laundry to be done, repacking to do, church to attend...even a movie to watch (insert shameless plug for "Mama Mia" here). Most importantly, we were eagerly awaiting the joyous arrival of more family from the States. Leni's aunt Carol, her two sons (Patrick and Adrian), and daugher-in-law (Carol Ann) - all from the Dallas area - would be joining us for the second of our two weeks in Ecuador.
Sweet!
A couple months ago when I found out these yahoos were coming on the trip, I was psyched. These were each people I very much but, unfortunately, not people I got to see often anymore.
Carol and crew arrived in the evening on Sunday and on Monday, we were ready to make the 6ish hour journey to the coast for a few days on the beach. For this trip, we hired a driver and a van to haul us and our stuff everywhere. There were 9 of us and we had asked for a 16 passenger van, thinking it was one step up from what we technically needed but that with bags for that many people, it would be much more comfortable. What showed up that morning to pick us up was monstrous!
All of us from shortest to tallest, including our awesome driver
There was so much room, it was ridiculous. There must have been seats for 25 people! Quite comfy. And our driver, Germel was awesome too! That was good because the deal was that, since it was such a distant desination, he was going to drive us and then stay with us for the week. He was a great guy and I think he really enjoyed being with us. He even stuck up for us and helped us out when the van company tried to overcharge us!
So off to the beach we went!
Hours and hours later, we rolled into Playa Escondida (translation: hidden beach). Playa Escondida is an "ecological retreat" facility which means that a lot of their policies and buildings are very "green". For example, we used composting toilets, took cool showers (hardly a problem when it is so warm out!), slept in open air rooms, etc.
This off-the-beaten-path hideaway has room for only 30 people but we were the only people there! It was great being so well-served and staying in the best rooms. Here's a picture of the part of the property where we spent most of our time:
The place on the left is the restaurant where we ate and our rooms are in the building on the right. I was standing ankle deep in the ocean to take this photo :)
The rooms themselves were simple but completely adequate. Since we only really slept there, we didn't need them to be overly fancy.
Open air, comfy bed, hammocks :)
The view from our window
There was a handful of staff who all worked to keep us fed and happy. They seemed to like us and even baked us a special cake one night! When we weren't sleeping or in the water or exploring, we were hanging out on the covered patio where we were served meals.
We spent lots of time down by and in the water, both at Playa Escondida as well as another beach a short drive away. We swam, we skipped rocks, we searched tide pools......
One day, we went into a nearby town for a little wondering around, shopping, etc. We found a beachside bar that had swings as seats and couldn't help but sit down and partake!
On a different day, we heard about a place to go to see whales in the afternoon. Mostly we saw water spouts but we saw a couple whales briefly come up.
On Thursday morning, we enjoyed our last wonderful meal at Playa Escondida, said our good-byes to the staff, and piled back on the van bus. We were headed back towards Quito but would be stopping for the night in Santo Domingo.
On the drive back out to the highway, we ran into these guys:
Many of you have heard me say that Leni's parents served as missionaries in Ecuador for some time when Leni was a child. The larger picture is that Leni's paternal grandparents were missionaries in Ecuador for decades!
Long story short: the Moores moved to the jungle back in the 1950's (I think) to live with the Tsafiki (or Colorado) people who lived close to Santo Domingo. This mission was to live with them and learn their language (as well as how to write it...it was not a written language yet!) so that a bible could be translated for them. Crazy! The Moores lived there close to 35 years I believe and brought Christianity to this culture, which still mostly honors it today!
We got to Santo Domingo, had some dinner, and then crashed for the night in the home of some missionaries that the Moores knew from back in the day. The next morning, we made the 30 minute drive into the jungle to a place called Congoma to visit the place where the Tsafiki people live. I was so thankful for these 30 minutes because I knew that when Paul was a young boy, his dad would have to do this trip in two days on a donkey or horse because there was no road back then!
When we arrived, we pulled up to a school where kids were playing outside. I learned that this school was a bi-lingual school where they spoke both Spanish and Tsafiki. How crazy to think that these kids would not have Tsafiki text books if it hadn't been for Leni's grandfather. It was cool to walk around and see what was going on:
Paul kicking the soccer ball around while Adrian guards the goal
Karisse with some younger kids in the classroom
Not too long after our arrival, a man came walking down the road on his way to do some work. He saw Paul and they started talking. I soon learned that this man had known the Moores back in the day. To him, Paul's father, Bruce, was like a father figure and Paul even taught him to type and to play guitar. We shot a video of him sending a message to Bruce and it was incredibly moving...tears in lots of eyes.
Friend (can't remember name!), Paul and Carol
We were waiting for Paul's longtime childhood (and now adulthood) friend, Primitivo to show up to visit with us. While we were waiting, we played in the banana trees a bit.
Finally, Primitivo came onto the scene. As he grew up, he spent a lot of time assisting Bruce Moore. In adulthood, he is a community leader as well as the current pastor in their church. He had a chance to also make a video greeting for Bruce.
Adrian filming Primativo with Paul watching
You may be wondering what is on Primitivo's head. It's his hair, just dyed with a paste. Back when the Moores lived in Congoma, the Tsafiki had some pretty awesome ceremonial dress. I have even seen pictures of people dressed this way in the 1970s at Leni's aunt Becky's wedding.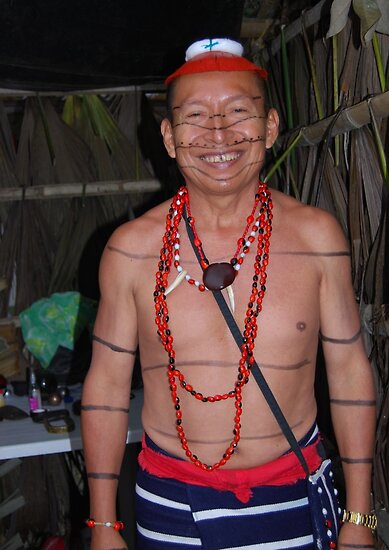 Photo found online
Today, as you can tell from the photo of Primitivo, the look is quite toned down and reserved for special events. On this day, Primitivo was on his way to a community meeting.
After a few minutes of visiting, Primitivo jumped with us in the van bus and we drove a few minutes to see the church where they worship and some other friends.
After some more visiting with old friends, we departed for the final leg of the trip back to Quito.
It was surreal to visit Congoma and realize all the history the Moores have there and how much Bruce is still remembered and loved. Watching Leni's aunt Carol, who hadn't visited her home in almost 30 years was priceless. But in the mean time, I was being eaten alive by bugs and was already tired from the beach trip. The prospect of returning to Quito and then soon boarding our return flights was a welcomed one.
I know this particular post has been long and probably should have been split up into two posts. But thanks for hanging in with me. I'm happy to be home but will never forget my trip to Ecuador. We hope to save money and one day return again to visit the Galapagos Islands, which are part of Ecuador. But that will be many, many years in the future. It is a very unique but extremely expensive place to visit. Another part of Ecuador that I would like to visit is the Amazon River.
There's always something to look forward to!
Keep It Real!